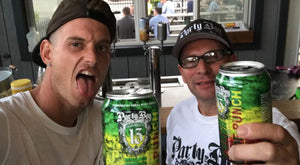 Party Boy forms LLC and Creates New Energy Drink with Great River Brewery featuring Davenport's own "Rude Punch"!
It's official!  The first pallets of Party Boy Skateboards PUNCH with the flare of Davenport's own RUDE PUNCH are heading out to the shelves of a distributor near you! 
After the 2017 Party Boy Skateboard's Summer Skate Jam, it was decided that some kind of collaboration was called for between Party Boy and Rude Punch, so in typical Chopper fashion, Rob 'Chopper' Haller came up with the idea of making an energy drink and after some conversation with the Great River Brewery crew, a plan was made, a recipie for the explosive cocktail was formed and the idea went into production. Now, a mere two months later, phase 1 of the plan as been executed...Party Boy Skateboards PUNCH flavored with RUDE PUNCH is a reality! 
It's time to move on to Phase #2 and start getting it on the shelves of local grocery stores, convienence stores, resturants, taverns, clubs, hotels, casinos and skate shops! Thanks to the Great River Brewery family, Rude Punch family and everyone that helped out on team Party Boy to make this happen.  If you are a business that is interested in carrying the new energy drink and would like a sample, you can contact Chopper atchopper@partyboyskateboards.com or call (309) 912-0164
Full list of businesses carrying PBS RUDE PUNCH coming soon and more plans are underway.  Stay tunned!
---