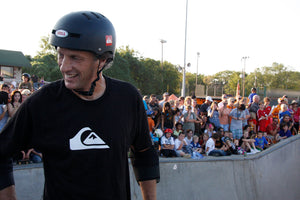 Party Boy joins Tony Hawk and crew at Davenport Skate park
Party Boy Skateboards will be representing with full crew and merch at Davenport Skate park on August 16th, 2014 when Tony Hawk and The Birdhouse Skateboards team come through town as a part of their 8 city summer tour.
The Birdhouse team, featuring Tony Hawk, Aaron "Jaws" Homoki, Ben Raybourn, Clint Walker, David Loy, Kevin Staab, Willy Santos, Clive Dixon, Mike Davis, Shawn Hale, and Shaun Gregoire, will be traveling in a caravan of MINI vehicles as they wind their way from state to state. 
All the skating and time on the road will be captured via video and social media, so be sure to follow Tony and the Birdhouse team and check the Ride Channel for updates.
Click on the graphic below to follow us on twitter for the latest updates on this event as well as all Party Boy Skateboards news and events!
---